About MTAG
MTAG Group is a group of companies that encompasses Toyo Sho Industrial Products Sdn Bhd, Intag Industrial Supplies Sdn Bhd and Intag Steel Hardware Sdn Bhd.
Company Background
We are a converter company specialising in the printing of labels and stickers and customised converting services for various materials. In addition, we distribute industrial tapes and adhesive products under the brands 3M and Henkel.
We were established in 1995, when the Malaysian Government allocated industrial lands in Johor to attract foreign investments into the Indonesia-Malaysia-Singapore Growth Triangle region. This move saw many multinational companies from USA, Japan and Singapore relocating their manufacturing facilities to Johor due to its strategic location and the availability of natural and labour resources at that time.
The history of our subsidiaries is as follows:
Toyo Sho
Our Managing Director, Chaw Kam Shiang, and our Business Unit Head of Toyo Sho, Choo Jack Kie, were previously colleagues in Multi Labels & Stickers Sdn Bhd. They both witnessed the increased number of orders for labels and stickers required by E&E manufacturers in Johor. Together, they decided to form Toyo Sho in 1995, to provide the printing of labels and stickers and converting of double-sided tapes to these E&E manufacturers.
In 1996, we established our business relationship with Hitachi Cable (Johor) Sdn Bhd to supply printed labels and stickers.
As our business grew, we further expanded our converting capabilities to include different materials such as polyethylene plastics, foams and cardboard.
In 2001, we were appointed as a 3M converter to convert adhesive tape products for its customers.
In 2004, we were appointed by Underwriters Laboratories Inc. (UL) to print UL's registered marks on labels and stickers for the E&E market in North America. Our customers' products that are evaluated by UL and have met the applicable safety standards will be labelled with UL's registered marks.
In 2006, we were assessed and certified with ISO 9001:2000 QMS Certification under the scope of "manufacturing of printed labels, die-cut double-sided tapes and polyester tapes" from Alberk QA International Technical Control and Certification Ltd. This accreditation was subsequently updated to ISO 9001:2008 in 2015 and ISO 9001:2015 in 2018.
In 2010, we were assessed and certified with ISO 14001:2004 Environment Management Systems Certification under the scope of "manufacturing of printed labels, die-cut double-sided tapes and polyester tapes'' from Alberk QA Technic GmbH. This accreditation was subsequently renewed in 2016.
In 2011, we relocated to a bigger premise at our current location at Kawasan Perindustrian Tebrau III in Johor Bahru to better facilitate our growth and business expansion.
Intag Industrial
In view of increased demand from our E&E customers for products such as cleanroom and disposable products, wipers and gloves, this prompted Chaw Kam Shiang and our Executive Director Lau Cher Liang, who has considerable knowledge and experience in trading and distribution businesses, to establish Intag Industrial in 2001.
In 2004, we were formally appointed by 3M as an authorised distributor to distribute 3M products such as tapes, adhesives, abrasives and static controls in Johor. As 3M is a recognised name in the market, this distributorship allowed us to strengthen our market position in distributing 3M's products to our customers.
In 2010, we started distributing Henkel's adhesive products for general industrial assembly applications. In the same year, we were also engaged by Jabco Filter System Sdn Bhd, a company principally involved in the manufacturing of air filters, to supply mesh made from materials such as non-woven materials, fibre glass and PTFE.
In 2012, we further enhanced our converting capabilities by investing in new machineries that apply ultrasonic technology.
Intag Steel
In 2005, we established Intag Steel to continue expanding our converting capabilities to metal.
Intag Steel undertakes profile cutting and cut-to-size metal parts for the construction, mechanical, engineering and precision-tooling industries.
Over the years, from printing labels and stickers, we have also established our converting capabilities to convert various materials such as tapes, papers, polyethylene plastics, foams, cardboard, non-woven materials, fibre glass, PTFE, polyester and metal for the E&E, precision-tooling, automotive, mechanical, engineering and construction industries. We are also an authorised distributor for well-known tape and adhesive brands.
MTAG Land
Incorporated on 12 March 2020, MTAG Land is a wholly owned subsidiary of MTAG Group Berhad. It is designated to hold an intended land purchase to construct a manufacturing plant in view of further business expansion.
Old Factory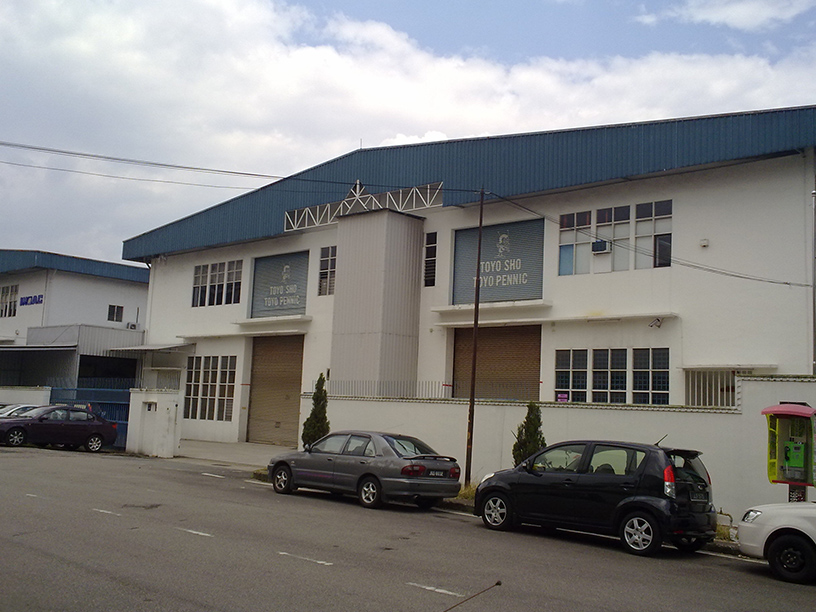 Present Compound